Day 4 was mostly driving towards the highlight of our itinery- Cappadocia!
We stopped for toilet breaks and lunch, but besides that pretty much did nothing but drive till 4pm when we arrived at an ancient 'hotel' (in the basic sense of the word) for a quick visit.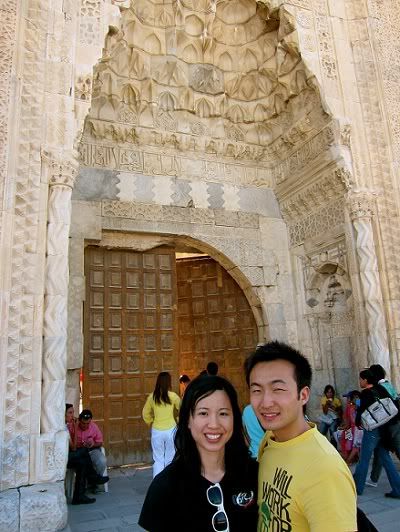 The entrance.

Built in the 13th century, Caravanserai Sultanhani was a place of rest for traders journeying along the Silk Road to stop and stay the night, have a meal and rest their horses and camels. There are a few such 'hotels'in the area but this is one of the best preserved ones.
We quickly explore the place which consists a few dingy stone rooms, a kitchen, a mosque and a stable which now obviously houses some pigeons nesting near the ceiling.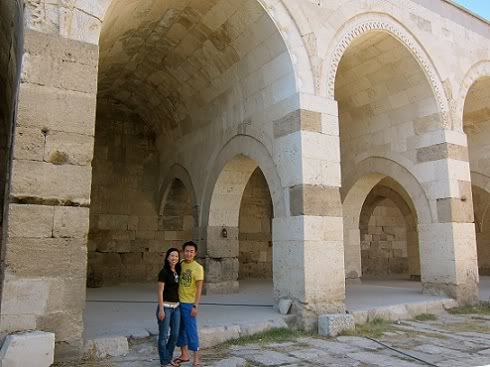 Kitchen area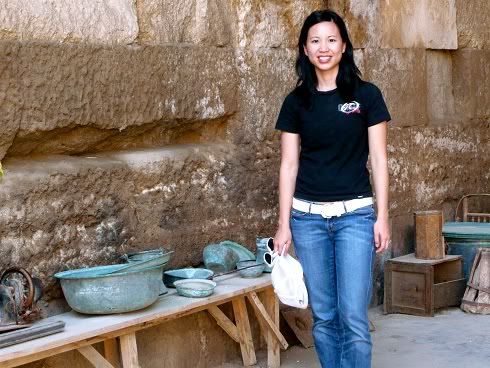 <
Kitchen tools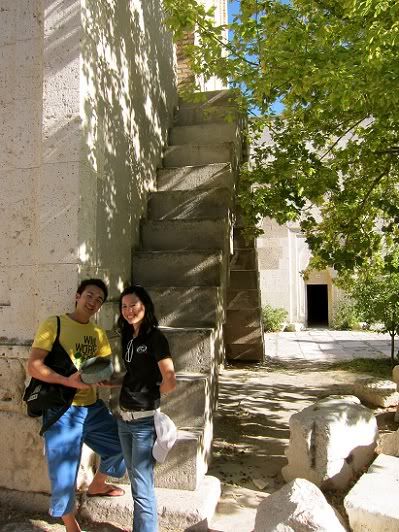 Steps leading to the mosque

The stables

After a few photo snaps we're back on the bus continuing our journey towards Cappadocia!
As we enter the land where early Christians hid from persecution, we are greeted with majestic rocks and canyons, formed by a nearby volcano as well as the power of wind and time.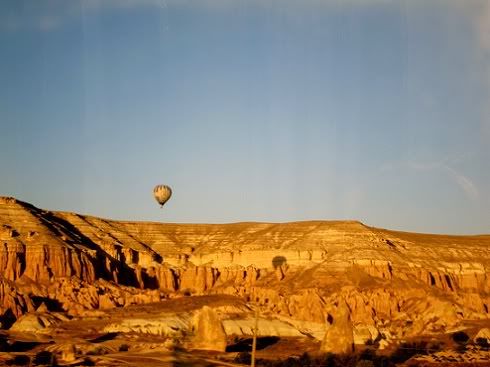 It was the perfect hiding place for early Christians, who lived in underground cities and rocks caves to escape persecution from the Romans (obviously before they changed their mind and decided it was a good political tool), and then the Arabs.
We had a full day of exploration set aside for Cappadocia the next day (this day was just meant to be the travelling to get there), but someone needed to go to the toilet urgently so we had to stop off before getting to our hotel and our tour guide gives us some time to wander around the area we were at and take photos.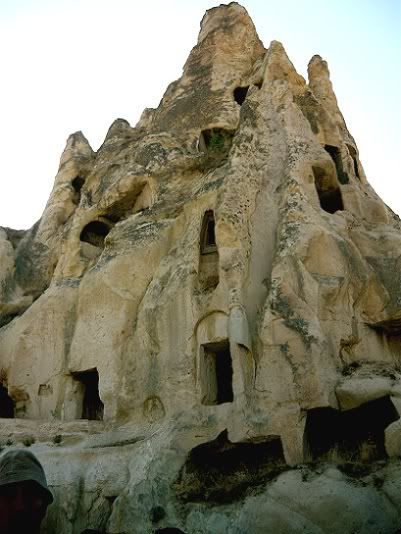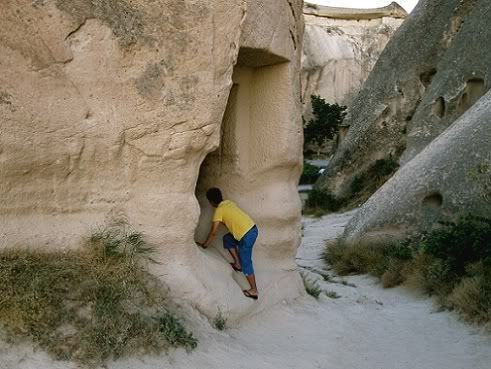 These rocks in the photos below (notorious for looking a bit phallic-like) are known as 'fairy chimneys' (yes that is a legit geology term, along with 'hoodoo', 'tent rock' or 'earth pyramid' according to Wikipedia).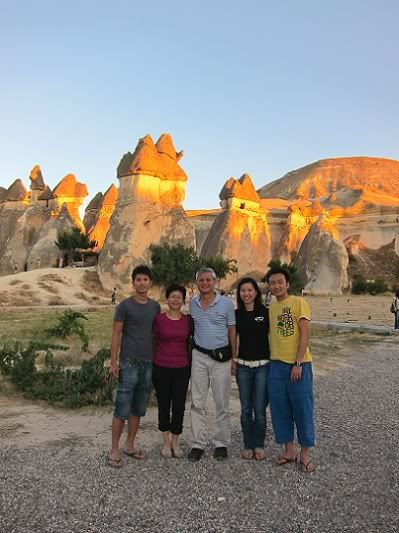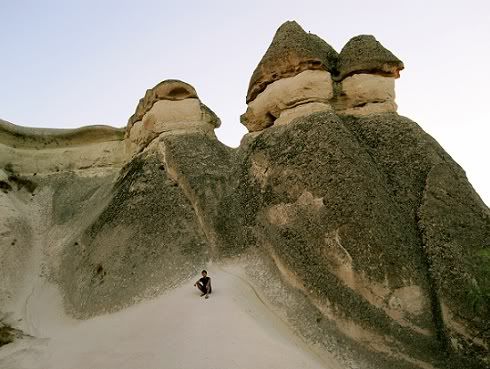 Alex chilling like only a kampung boy knows how

There is also an ancient rock church which now has a ladder propped up the side for the convenience of tourists to access.
As I was going up it, I noticed some people trying to take photos below and obviously didn't want to be in it and ruin their shot, so me being me, I rushed up the ladder and into the cave without looking upwards…and proceeded to slam my head rather magnificently right into the low doorway. It was a VERY big slam. So big my Dad reacted with such great concern it seemed he felt just as much pain watching it as it did me experiencing it.
The ancient rock churches in Cappadocia are basically these small caves with some paintings on them, mostly of biblical stories and teachings and of Jesus and other biblical figures. There are probably thousands of them carved into the rock in the area, but all of them are very small- nothing like what modern churches are like. Most of these wouldn't be bigger than your bedroom!
Back then, teachings were done in very small groups (which is why there were only 12 disciples!) as this was the recommended way of learning. It still is, which is why we have smaller church cell groups today- for better learning and relationships with each other and with God.
The wall paintings were so teachings could be passed down, as few people were literate in those days. Most of these paintings have since faded though (although some have been restored), and you will find a lot of the faces and heads of the people depicted have been scratched out by the invading Arab soilders, as Islam generally prohibits images of God, Muhammad and other prophets- and this includes the Christian ones as we do share some of the same prophets (their names have just been translated differently from what we know it as in English).
It was in this area of Cappadocia that we also met the most adorable dog whom we nicknamed 'Cappy' (we're so uncreative).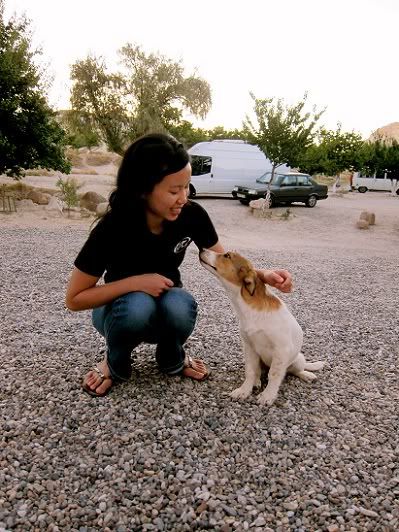 Cappy had some fleas though, hence me petting him rather gingerly.
Alex also saw this tree and begged Vinh and I to 'dance' around it for a Bollywood shot. We did so, albeit quite reluctantly. Turned out to be a good shot…haha!
After the stop we headed off to the hotel. We had a lovely dinner which included a yummy mushroom soup I loved. I also took a photo of the veggie buffet spread to illustrate that Turkish food really isn't all meat:
No way you'd find that many vegetarian options in an Aussie buffet! The meat stuff was on the other end- it was, at very most, half the length of this.

Although we initially arrived feeling energetic thanks to the lack of movement throughout the day, after a good dinner, the comfy bed were calling out to us…as was the free Wi-Fi.